Airfreight
Air freight 4-5 charter flights to the USA - exclusively at InTraLog!
As a partner of the Senator Group in Switzerland, we offer you exclusive access to this cargo capacity to the USA!
Due to the ongoing Corona crisis, most aircraft remain on the ground, but there is still a great demand for flights, especially to the USA. Most flights tend to be heavily booked in the freight sector and the airlines are charging correspondingly high prices coupled with long transit times.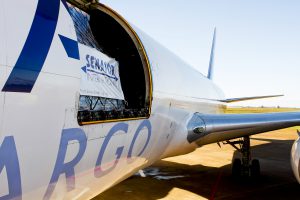 The Jumbo 747 freighter flies under the name SAB (Senator Atlantic Bridge)
4-5 times a week from Frankfurt to Greenville/Spartanburg (South Carolina). The full freighter is particularly suitable for large and heavy loads that are difficult to dispatch from Zurich.
Of course, in cooperation with Senator, we also offer overland connections to many other cities in the USA – with surprisingly short transit times.
Ask us and we will come up with the best solution for you!