Sea- & Airfreight
WIN Worldwide Independent Network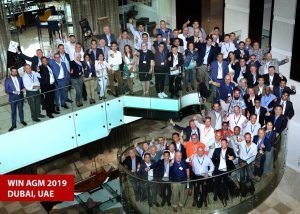 WIN Worldwide Independent Network
Local focus – global capability
Were you aware that InTraLog Overseas, as a member of the WIN Worldwide Independent Network, has access to a network of partners that provides access to a supply chain in 77 countries with 350 offices ?
Since 2017 InTraLog Overseas AG is the official and exclusive partner in Switzerland of the WIN network. This membership also opens up the possibility for you as a customer to cover your supply chain needs with InTraLog.
With two key global events each year, the Annual Global Meeting (executive level) and the Global Sales Meeting (sales level), the network creates the opportunity to interact with global partners at various levels, plan strategies and develop them in bilateral discussions or group workshops, optimize common services and, of course, cultivate contacts and friendships.
Maintaining such a network and the contacts within, is an inconspicuous but elementary part in building a professional and stable foundation for an organisation, so that you, as our clients, can benefit from it.
This year's AGM took place in Dubai in January – here are a few impressions.