Sea- & Airfreight
Do you know the rail route from China to Switzerland?
Goods have been transported by rail from China to Europe and vice versa for decades; the only difference is that the service has only been in perfect working order since 2014. For a long time, only whole container reservations were possible, but now general cargo shipments are handled just as quickly and safely. We offer you a reliable rail service for the whole of China – whether FCL whole containers or LCL general cargo shipments.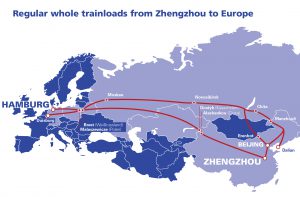 There are many different and sometimes very unrealistic transit times on the market. As an experienced specialist in the daily handling of rail freight, we only provide reliable information. The transit time for a rail shipment is approximately 30 days door to door. Bare transit time from a Chinese rail terminal to a German rail terminal is around 14 to 16 days; however, at least 1 week must still be included each way for pre- and post-carriage. With around 4 to 5 departures per week from the main stations in north-east China, an almost uninterrupted service is guaranteed. Just like sea freight, containers are loaded at the supplier, sealed with a customs seal and transported directly to the nearest railway station. General cargo shipments are picked up by local truck operators and transferred to the nearest rail terminal, where they are stowed in 40-foot container units as consolidated cargo, with containers safely delivered unopened with a customs seal to the destination station in Germany.
This completely eliminates the risks that previously existed for general cargo shipments due to multiple transshipments in China, Russia and Europe; and your goods are transported directly from China to Europe untouched.
We take care of all communication and coordination with your supplier in China as well as of all necessary formalities and documents.
Looking at the cost, rail freight transport is a particularly lucrative alternative to expensive air freight. Compared to sea freight, rail transport costs are around twice as expensive as sea freight costs, and the time saved is just under 10 to 12 days compared to sea freight.
The environmental effect is naturally another advantage.
Let one of our experts advise you in detail. We will be more than happy to make you a tailor-made offer for your next shipment.